The process of arranging and adapting traditional music to the modern ear, which has become known as world music, was not well-known in the 1960s and 1970s. Yet world music has since become increasingly popular and found a huge audience everywhere. Some examples of world music acts which have enjoyed widespread recognition are The Bothy Band from Ireland, Alan Stivell from Brittany, Malicorne from France, Kolinda from Hungary, and Los Incas, which paved the way for Andean music.
For thousands of years the main function of music was ritual. Among the many different peoples and tribes around the world, music accompanied the important moments of life: birth, marriage, seasonal cycles, death, and so on. It did this through its power to change humans' emotional state, and therewith help them through life's stages. Traditional music often was based on rhythmic melodies played on flutes and drums, with endless repetition putting people in a trance.
The origins of the word 'Muse' and therewith also of 'music', remind us of concepts such as magic, wonder, inspiration, and contact with the invisible. Today music is everywhere, as it is still an indispensable part of the human experience, and it continues to help humans manage their emotions. Yet as modern human society has gradually lost its connection with the sacred, music has gradually been reduced to just mean 'entertainment'.
Jorge Milchberg has been trained in classical music, and also has a rich musical background based on many different influences, including those from his home country, Argentina, and all the artists with whom he has collaborated. From the very beginning of his career as the founder of Los Incas, Milchberg has been preoccupied with arranging and enhancing traditional music. In so doing he managed to adapt music which had a ritual function to today's listening environments.
This adaptation work is delicate because it requires a grasp of the emotional nature of a melody (which can be very subjective), and then, while maintaining this original impulse, make sure that the traditional melody sounds compelling today. The original melody remains central, but it is developed and arranged with modern harmony, new instruments, and additional melodies.
The heart of Los Incas lies in its interpretation. Jorge has always stayed clear of clichés, and, with the support of many talented South American musicians, has invented a very personal way of interpreting these traditional songs, without being overly attached to the original way of playing, yet by highlighting the inbuilt emotions which transcend borders and time.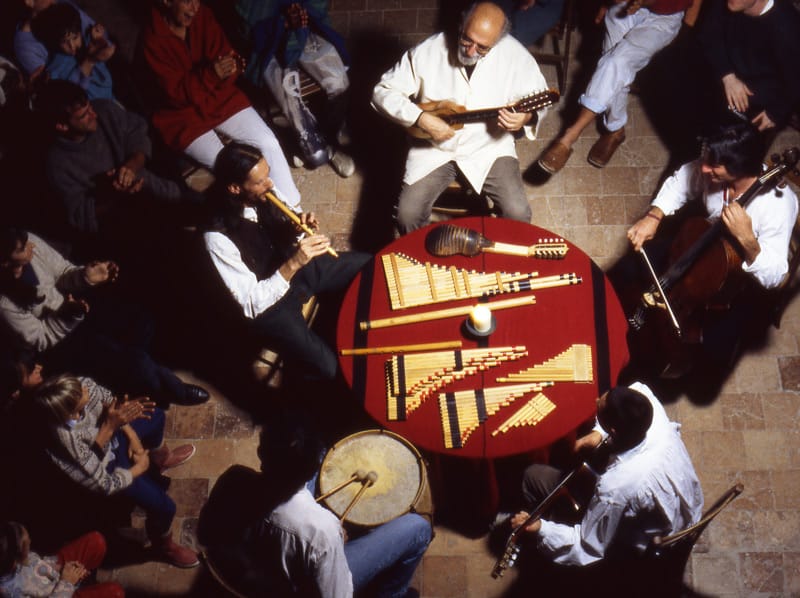 In a career now spanning more than fifty years, Jorge Milchberg has continued to put his vision and his roots as a classical musician in the service of the Andean traditional repertoire, often referring to the great Western composers such as Bach, Mozart, and many others. He has refined his artistic vision over the years, resulting in the sophisticated approach that characterizes Los Incas today, both in the popular songs and original compositions it performs.
The group has also evolved in the way it performs concerts, no longer standing in front of the audience, but instead placing itself at the center, with the audience around it, which results in greater proximity and more possibilities for sharing.
This arrangement is far more inclusive of the audience and gives birth to a new ritual that's different in form but similar in spirit to the rituals of the traditional tribes of old, which continue to reverberate across time and space.
Translation : Paul Tingen